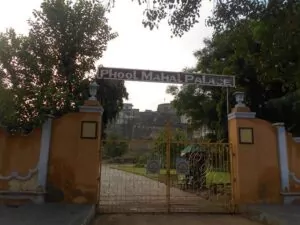 Trekking to Kishangarh Fort at Kishangarh
The entrance of Phool Mahal Palace in Kishangarh
One is writing this from the cool comfort of one's lake facing room at the luxurious Phool Mahal Palace Resort at Kishangarh in Rajasthan. It is indeed difficult to believe that 1 km. away from Phool Mahal Palace, there is a huge fort which can rival the beauty of the best forts in India.
Kishangarh Fort at Kishangarh crowns the peak of a tiny hillock located on the banks of Gundalao Lake. Kishangarh Fort can be climbed in 15 minutes from Phool Mahal Palace.
One has just returned to my room after completing the trek through the steps leading to the fort located within 1 km. from my room at Phool Mahal Palace.
Read more about An Indian Royal Family Keeps Legacy Alive