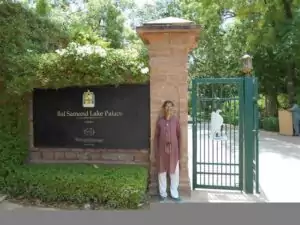 Bird watching at Bal Samand Lake Palace Hotel, Jodhpur
At Bal Samand Lake Palace Hotel
One is writing this from the cool comfort of one's garden-facing room at the luxurious Bal Samand Lake Palace Hotel at Jodhpur in Rajasthan. After having visited bird sanctuaries extensively including Bharatpur, Nalsarovar, Khijadiya, and Chilka bird sanctuaries, it is difficult to believe that 8 kilometers from Jodhpur, there is a birding destination that can rival the bird sightings of these large bird sanctuaries.
Bal Samand Lake Palace Hotel is the flagship property of Jodhana Heritage Hotels. One has just returned from Bal Samand Lake Palace Hotel after completing a trek through the gardens leading to the Bal Samand lake located a kilometer away from my cottage.
One can find old blue-coloured houses, shops selling kachoris, and narrow streets with heritage Havelis and several traditional Rajasthani dhabas at Jodhpur. Bal Samand Lake Palace Hotel has located just 8 km. away from Jodhpur city.
Read more about Dark Secrets of the Mysore Royals: A curse cast by a Queen.