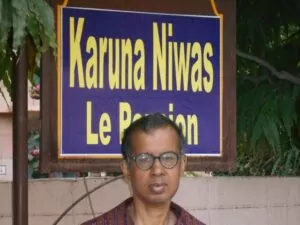 Heritage walk through Jaipur
At the entrance to Karuna Niwas Heritage Homestay
Its Holi and where else to enjoy it other than the colourful state of Rajasthan. Boarding the Aravalli Express at Ahmedabad, I land at Jaipur Station at 8 p.m. and am escorted by my gracious Rajasthani host Mr. Ajit Singh Rathore, to drive down to Karuna Niwas Heritage Homestay, located 10 km. away.
A relaxing hot water shower in my luxurious suite at 9 p.m. was a rejuvenating experience for my immune system. Holi is a festival that is celebrated in Rajasthan with great fervor and a trek through the sanddunes of Rajasthan at the end of March is the ideal way to absorb the energy of the primordial elements.
Meditating in the garden of Karuna Niwas, under an amla (Indian gooseberry) tree, while watching hundreds of stars twinkling in the sky, is a once-in-a-lifetime experience.
Read more about Miniature Paintings of India – Chronicling History Through the Ages