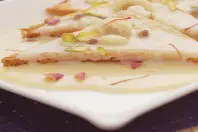 Royal Cuisine of India
India is a land of kings and emperors. India is also known for its hospitality that is the essence of its deep-rooted culture. We Indians truly believe in the age old dictum – Atithi devo bhava and go to any extent to make the guests feel totally at home. State banquets that have tables groaning with food are testimony of this. There was a time when gold varq adorned many a biryani and gold guineas were boiled with dal to give it the added flavour. Even now we bend backwards to give a shahi feast at weddings so that all the guests leave with the feeling that they have been well looked after with plenty of sumptuous food. Hospitality thrives. But gone are the kings and maharajas and their rich repast. What remains is history as witness.
Unfortunately there is not enough documentation of the ancient food habits of all the royalty. We know that Emperor Ashok adhered to Buddhist vegetarian diet that was simple and lightly spiced. We know when the Mughals arrived the whole tapestry of cuisine underwent change as they permeated deep into parts of India and with time, the Mughal cuisine interwove with the regional cuisines to bring forth new cuisines, new flavours that have stayed on as part of royal Indian heritage.
The kings, maharajas or the nizams were invariably connoisseurs of good food. The royal palaces maintained fine kitchens and employed the best cooks. Often there would be separate cook for each recipe. And then again there would be competition amongst them as to whose table provided the most unusual and luxurious fare.
Today, in this day and age, if one wants to taste royal Indian cuisine, it has to be in authentic heritage hotels that are the property of the state tourist industry. The five star hotels in metros too provide the same but there are so many limitations. The ingredients, even though fresh, may not taste the same thanks to the farming; the masalas, even though straight from the recipe book, may not be of the top most quality, plus the saddest part is that skilled persons to make the delightful dishes of the past are no longer available. So what we have is just a lingering moment of a pampered palate but not the resources, nor the time to bring India's rich royal cuisines back to life.
But to say that India has one royal cuisine would not be correct. It will not be possible, though, to give account of all here as there is space restriction! Here are some that would showcase the repast of the Indian royalty.
The royal cuisine of India
Royal Kashmiri Cuisine
Royalty means grandeur and when we travel up further North, the history of Kashmir's traditional cuisine, Wazwan, needs a thorough read. It dates back to the last years of the 14th century when the Mongol ruler Timur invaded India during the reign of the Tughlaq dynasty. As a result, there took place a migration of, among other skilled labourers, cooks from Samarkand to the Kashmir valley. The descendants of these cooks came to be known as Wazas, who are the master chefs of Kashmir. And Wazwan, the royal cuisine, though influenced by Iranian, Afghan and Central Asian styles of cooking, has an identity of its own and is the ultimate in Kashmiri banquets. It is truly spectacular and sumptuous: thirty-six courses replete with Tabakh Maas, Rogan Josh, Rista, Aab Gosht, Dhaniwal Korma and Gushtaba. Phirni and Kahwa end the meal that is rich in taste and texture.
Royal Rajasthani Cuisine
The royal kitchens of Rajasthan were very lively with a number of cooks, called either maharaj or purohit, cooking for the royalties. Their recipes were often closely guarded secrets known only to the particular cook who would only pass it on to his son and so on. Quite a few were lost forever since no written records were maintained. Cooking food for the royal guests was considered to be an honour and to impress royal guests, the cooks were allowed to experiment and try out new dishes, which would be unique. For this purpose huge amounts were spent to get the best of ingredients. Stories of chicken and peacocks being fed on gold, pearls and rubies so that they could be fit for the royal table abound. The lavishness of their food was quite similar to the Mughals or that of any other royal kitchen.
Gold and silver utensils, the décor of the room and the elaborate presentation of the meat dishes created a regal mood. A unique creation of the Maharaja of Salwar is the Junglee Maas. Due to the lack of exotic ingredients in the camp kitchen, the game brought in from the hunt was simply cooked in pure ghee, salt and plenty of red chillies. However, now this dish has been adapted to the less controversial ingredients like lamb and poultry. Perhaps the best-known Rajasthani food till date is the combination of Dal, Bati and Churma. Some other dishes are Banjari Gosht, Dahi Keema Samosa, Machli Jaisamandi, Padampuri Murgh. Some of the famous vegetarian dishes are Shahi Gatte Ki Sabzi and Ker-Sangri. Since there is always a scarcity of water in Rajasthan, more of milk, buttermilk and ghee are used in cooking. The food in Rajasthan is known for its spicy nature but sweets such as Lapsi, Ghevar, Mawa Misri, Moong Dal Halwa and Suji Laddoo keep the balance.
Royal Awadhi Cuisine
The land of adab and tehzeeb, Lucknow, is the focal point of Awadhi Cuisine. This cuisine has been greatly influenced by Mughal cooking techniques and is famous for its Nawabi foods. The bawarchis and rakabdars of Awadh gave birth to the art of cooking over a slow fire called dum style of cooking. Their spread would consist of elaborate dishes like Kababs, Kormas, Biryanis, Nalli, Kulchas, Zarda, Sheermals etc. Rich dishes of mutton and paneer infused with spices like cardamom and saffron would be spread on the dastarkhwan, a meticulously laid-out ceremonial dining spread. In fact, Lucknow has always been synonymous with its kababs. Modern day speciality is the Tunde ke Kabab that got its name because it was a specialty of an one-armed chef. The uniqueness of this kabab is the masala which is a zealously guarded family secret and prepared by women in the family.
Royal Kolhapuri Cuisine
I spent a few days in Kolhapur to understand nuances of Kolhapuri dishes. How can I ever forget the warm welcome extended to me by the Maharaja of Kolhapur…it touched the very core of my heart. During my very first visit itself he presented me with a copy of 'Soopshastra' which is a collection of some of the most delicious recipes I have ever come across. This book was translated by one of his ancestors from a Persian collection. Years later in 1969 a few copies were printed and distributed among a close circle of friends and relatives.
True to their nature Kolhapuris take pride in whatever they cook, be it Mutton Kolhapuri, Chicken Kolhapuri or Vegetable Kolhapuri. Kolhapuri food is probably the most misunderstood food of Maharashtra because the only factor that seems to have influenced people outside Kolhapur is its chilli hot nature. Though Kolhapuri food is no doubt hot, yet it has such delectable flavours that it almost mesmerizes you. The chilli hot taste of this food matches the fiery temperaments of this warrior race.
Another thing that is unique about this food is the accompanying Rassas, a thin gravy that is full of flavour. They derive their names from the colour they bear Tambada Rassa and Pandhra Rassa which are probably the centre point of the dishes they accompany. Though pulses, vegetables, bhakris made of various grains and rice are abundantly used it is mutton that Kolhapuris relish the most.
Royal Hyderabadi Cuisine
One of the finest of all the palace cuisines is Hyderabadi. It stems from the Nizami cooking that transported the dastarkhwan to Hyderabad and there it married well with the Andhra influence. It is often remarked that Hyderabadis live to eat! This goes way back into history. Not many know that the first Nizam, Asaf Jah I actually had a kulcha (bread) embroidered on the flag of the Hyderabad State.
There is a mistaken notion that Hyderabadi food is all about non-vegetarian food. This probably stems from the popularity of Nihari with Naan for breakfast. Then there is the quintessential Haleem that is associated with Hyderabadi food. Indeed their repertoire in the non-vegetarian fare is rich and vast but so is their array of vegetarian dishes. Their pickles and chutneys are famous and lots of the dishes too take on a pickle like flavour like their Mirchi ka Salan. They cook their dals in a variety of ways – each one tastier than the other. Legend has it that one of the royalties Maharaja Sir Kishen Pershad, who enjoyed cooking, could prepare the dal in fifty-two different ways.