The Royal lineage of Hariharpur Estate, Bihar
Located in the proximities of Darbhanga (Bihar) exists a settlement area bordered by places like Madhubani, Jhanjharpur, Darbhanga, and Muzaffarpur bordering Nepal. Nowadays, the settlement occupies 1081 hectares of area in the Terai of Nepal border close to the Bagmati River. Several villages within the erstwhile Estate, including Hariharpur, Singhwada, Bisfi, Ladha Biden, and Chataria, as well as other properties elsewhere. As a result of its importance in British India, it is reflected in the Katra at Chandni Chowk Delhi, the Haveli at Panipat, the Haveli at Banaras, the Lands at Gazipur, and the Darjeeling Bungalow. Hariharpur today has a population of 13,990, with 7,153 male and 6,837 female residents. The literacy rate is 49.29%, 55.38% for men, and 42.93% for females. It was a significant part of an independent, wealthy Zamindari that was provided to the ancestors of Raja Rohit Kumar Singh by Emperor Akbar in his period of rule. The Estate was owned by the Late Raja J.P.Singh, a properly educated and benevolent administrator with modern views in those days and was one of the first Aircraft Owners of his times. The Harihar Pur Estate was a part of the Paharpur Estate that was given Late to Rai Bahadur Laxmi Pd Singh, the youngest of the four brothers and father of Late Raja JP Singh Ji, his only child. The hamlet's residents, mostly Brahmins, were typically lovely and compassionate, living pleasantly and relying primarily on agricultural methods for sustenance.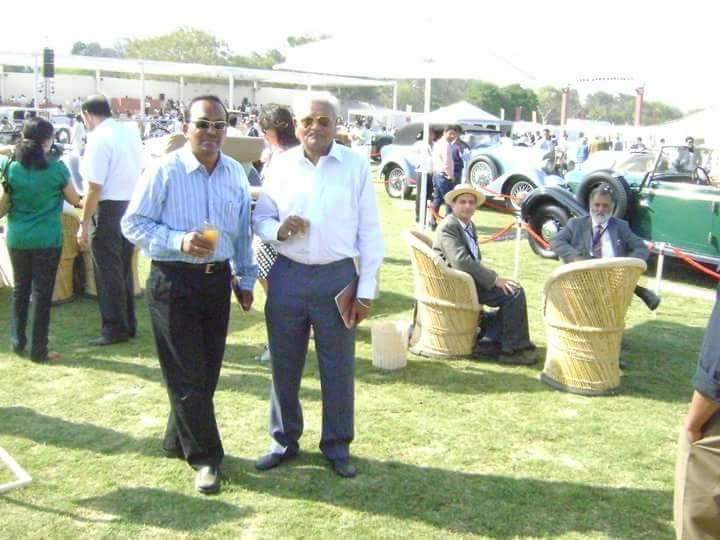 Due to the ravages of time, all relics of that era's Rajas and Landlords have been wiped out. Therefore, it is not easy to learn about their patronage and history. And perhaps this is one of the reasons why much of the rich Indian history remains unexplained since there is an absence of fundamental knowledge to learn more about the process. Natural disasters, the deterioration of paper over time, and other types of destruction have ruined the sources used to track the data and records.
However, with the assistance of Raja Rohit Kumar Singh and our fantastic team's efforts, we could obtain some unique material, which the group of Indian Royal Families now provides to you.
Family Tree Since Migration from Dilli (DELHI)
1. Late Raja JP Singh
Late Raja JP Singh was nurtured as an only single child by his loving parents, resulting in him being a very kind-hearted and pure human being with a pure-hearted attitude toward others. Nevertheless, life is not easy or predictable, and neither was his. Parents are a God-given gift; they are the only people who will stand by us and sacrifice their desires for our happiness. But who knew his time with his folks was running out? 
Late Raja JP was orphaned as a child (age of 8, Father and 14, Mother) and had to thrive for himself in a harsh environment. Because he was too young to inherit the Estate property, it was taken under the Court of the ward by the British Government. To assure continuity in his education, he was sent to Rajkumar College, Raipur, with a guardian Mr. Bhargava to look after him. He was not only a brilliant student from the beginning but also a strong warrior who continued to study diligently even after his parent's demise. Regardless of life's action of separating his parents from him, he never gave up, which was one of the finest attributes that contributed to his successful living. Education in the old times was not for everyone since it was not an easy process. Despite all the obstacles, Late JP completed his Graduation and received a British degree in the 1930s, which was not an easy undertaking at all. It was considered a major feat at the time. Seeing his optimistic and hardworking attitude, the British State released the Court of Wards and handed over the Estate to him and the revenues and taxes collected by the then British Collector. Because of his incredible hard work and outstanding qualities, he acceded to power after being a major and was conferred with the title of 'Raja.' 
He was also given great authority, designating him as a magistrate by the then Government. 
Later, in 1932, he married Rani Taruneshwari Devi, the daughter of an affluent Aristocratic family from Najibabad, Bijnaur. Late JP was a renowned personality and a custodian of several banks, such as the Imperial Bank and Punjab Bank in Darbhanga. The credit for constructing some important buildings in town and developing the local University all goes to him. He was also an honorary Secretary of the All-India Football Foundation with Raja Bahadur Bishweshwar Singh Ji, younger brother of Maharaja Darbhanga Sir HH Kameshwar Singh Ji.
Everything was going well. The couple was blissfully married, and everything was good until another great calamity occurred, devastating the whole Estate of Hariharpur. This was the catastrophic earthquake known as the Great Bihar Earthquake of 1934, which caused widespread destruction. Furthermore, it was the first time such a terrific tragedy occurred, shattering the seven-storied Haveli, leaving it to survive with only two floors. However, He, on the other hand, never gave up. Learning to navigate difficult situations and endure them gracefully is something we could all learn from him. He viewed this as a great opportunity and began working on designing earthquake-proof palaces that would have less impact on the people living inside, attempting to keep them as safe as possible. A 16-acre palace was to be built with all the necessary amenities to ensure the comfort of all his people, including a Lady's Court and Garden, an Open-Air Swimming Pool, 100 quarters for servants and other staff, garages for fleets of automobiles, a Power Plant, among others. Well, it was not just a simple structure but a full-fledged planned architecture for which he employed the renowned specialists from Ahmedabad, Bhambri & Brothers. They spent over eight years commissioning and creating it precisely as was specified, thus called The Laxmi Niwas Palace.
2. Late Raja VP Singh 
Late Raja VP Singh, the eldest son of Late Raja JP Singh, was born on November 17, 1934, in Hariharpur, Bihar. He was the oldest of six siblings, with five sisters and a younger brother, all of whom he loved and supported as a child. His remarkable abilities and outstanding accomplishments in numerous other fields made him seem incredibly talented as if talent was infused into his veins. Educated at Banaras' Besant College, he held a Bachelor's degree in Engineering from Banaras Hindu University (BHU). His skill set was not limited to academics but was comprehensive in scope. He excelled in whatever he tried, whether it was sports, swimming, photography, filmmaking, or something else, earning him the well-deserved title of "Jack of all trades and master of many." He was named Harihar Pd Singh because of his birth at Hariharpur, which was later changed to Kunwar Vir Vikram P Singh. His lovely aura and wonderful personality charmed everyone he met.
He was married to Rani Sahib Omvati Devi, a Law Graduate from Agra University, and the only Daughter of Pinahat estate, a wealthy Zamindari near Agra. They relished a very caring and loving marriage, and on July 20, 1960, they welcomed their only child named Kr. Rohit K Singh.
3. Raja Rohit Kumar Singh
Raja Rohit Kumar Singh was born on July 20, 1960, as the only child of the Late VP Singh and Rani Sahib Omvati Devi. He is an incredible human with a simple, grounded personality and a man of dignity who chooses to avoid the airs that surround him. He was reared with love and care, culminating in a human soul of elegance. From the beginning, he was educated and nurtured at his palace by his talented Tutor guardian, who supported his suitable growth in all parts of life, whether athletics or education, making him a good, well-adjusted person. His intellectual stability and will to succeed led his parents to send him to Colvin Taluqdars' College in Lucknow in 1971, where he passed out in 1978. He earned a bachelor's degree in 1982 with flying colors, demonstrating himself as a bright student with his extemporary skills and an exceptionally pure human nature. In 1987, he was married in the Darjeeling district at Kalimpong to a charming, courageous, and intelligent young lady, the late Rani Dr. Seema Kumar Singh.
Born and raised in well-educated family background, he loves to hang out with like-minded people who are kind and humble to others. 
Ever thought about why some people remain so motivated and determined in life? Why do they seem so happy and satisfied in life? 
Well, the answer is passion. Life is unpredictable, and a roller coaster ride thrilled with a long, unending path of ups and downs. But despite such issues, some people always stay happy and focused in life. 
They usually have planned goals they wish to accomplish before their life cycle ends, so they use every single day wisely without wasting. This is widely followed by Raja Rohit Kumar Singh as well. No matter how hard life throws, he fights back firmly and happily. His intellectual mindset and passion for doing something well kept him on a prosperous road journey. Currently, that can be seen in his hobbies; whether the British and German Vintage Motorcycles he keeps on collecting or the extra knowledge he has about watches that you can sense in his unique collection. To keep up with his crazy attitude towards such exotic groups, he dedicatedly strives to open new doors of opportunity that can embrace his hobbies and skills. He is currently an active member serving various agencies of his interest and is an active member of the Heritage Motoring Club of India, ND. With his passion for Mercedes and Benz cars, he accumulated an impressive collection of these vehicles. Dedicated to retaining the erstwhile royalties in India, he has been a member of several such groups. By demonstrating his additional interest in such areas, he allows us to understand what it takes to be dedicated to something you are passionate about and work hard to make it happen. Being a multi-faceted person, he carries along some uniquely found, attractive hobbies that make him quite eager and optimistic in life. He has been a known name to Rotary International Dist. 3250 for the last 22 years and has successfully served many of the designations. Out of the many activities he organized, the Vintage Car Show in 2014 was a great success. It was held at the Jaipur Distt Conference of Rotary Dist. 3250 (Comprising Bihar and Jharkhand) and participated by many Royal Dignitaries and their Cars from Jaipur and Rajasthan.
He had been working a lot with his Late wife together for the needy and worked with the famous Vegan organization of Taiwan, The Supreme Master Ching Hai International Association, in helping with relief materials and woolens 
distribution during floods and winters in Bihar, Tripura, Assam, West Bengal, and other parts of the country.
He is a voracious reader and has been a keen traveler, and he prefers to drive on his own most of the time.
4. Late Rani Dr.Seema Kumar
A young, beautiful, courteous, and talented girl from Darjeeling (Kalimpong) schooled at St. Joseph's School and the Tashi Namgyal Academy School of the Chogyal of Sikkim in Gangtok and graduated from NB University. Later, after getting married, the multi-talented female obtained her master's degree in business administration, followed by an MPhil and a Ph.D. from Delhi University. They have their only child, a son named Kr. Aditya Vikram Singh. 
Her academic achievements and phenomenal abilities kept her motivated and enthusiastic about working to the point where she became the Director of the School of Business Administration, Darbhanga. She had also served the local University as a guest faculty time and again. She worked towards the weaker section of society by getting along and supporting them in conquering their daily challenges. She also mentored them by enlightening them in obtaining job opportunities and encouraging others to have a similar brighter attitude for a brighter tomorrow. Her commitment to serving others and strenuous efforts to alter society by aiding people earned her the Bharat Shiksha Ratan Award in Delhi, handed over by CBI Chief Sd Joginder Singh. Aside from that, she was a Rotary Club member, organizing numerous activities for the Rotary Club in her district while also positively contributing to the empowerment of the Women's Club, Rotary Patna Shakti, Patna. Her generosity and love for others are qualities that we should all strive to emulate. Despite her accomplishments and humanitarian endeavors, she was never content and continued to contribute to societal advancement. It was her responsibility to ensure that poor students received a good education facility and to be involved in other charity activities, one of which was linked to Taiwan's Supreme Master Ching Hi International Association.
Not just in their place but in several other states, including Tripura, Assam, Bengal, Bihar, etc., where she worked with her husband and others to provide safety and relief to those in need and social institutions seeking financial or other assistance.
She was a genuine soul, a flawless human being, whether as a wife, Daughter, mother, or citizen of the nation itself. She had fully executed all her responsibilities and rights, which teaches us to be selfless and to help others whenever we can or when they are in need. She also wrote several books; a few are available on Amazon too. She has laid out several acts for us that we all should learn from her how to bring smiles to others' faces. But, as we all know, good folk are short-lived, and she was no exception. Covid has been a life-changing event for many people, especially those separated from their loved ones. One such separation occurred in January when we lost such a gem of a person. Despite the best in-house therapies from top-notch, well-equipped institutions, she could not be rescued, resulting in a massive loss for the family and society because they lost a dignified and trustworthy person. Today even though we do not have her physically around us anymore, she still resides in our hearts. Even though she is not with us to create a change, her values and aspirations are widely acknowledged. Her passion and hunger to serve others without expecting anything in return make all her hardships worthwhile.
5. Kr Aditya Vikram Singh
Kr. Aditya Vikram Singh is a young, decent, and well-educated son of a respected father, Raja Rohit Kumar Singh, and an amazingly talented mother, Late Rani Dr. Seema Kumar Singh. He was born in the home of talents and was nothing less. Holding the intelligent DNA in his body, he is an ardent shooter who can also play several musical instruments and manage other interests. Not only is he a master in academics, but also an expert in the business. He attended school in Nagpur and continued his engineering studies at Jamshedpur, where he excelled and graduated with flying colors with a B.Tech degree in Information Technology. Whether following his family's traditional business of Construction of commercial buildings or building a residential property, he has completed all such undertakings effectively. He is married to Mahima Singh, a native of western Uttar Pradesh whose family now resides in Delhi. Her father is a retired engineer; her late grandfather was IAS with the planning commission. The couple has been blessed with the arrival of a beautiful cute little angel in their home, Simantika Aditya Singh.
BUSINESS
Raised by such fantastic, talented, and hardworking ancestors, they have been provided with the best of all that exists, which can widely be seen in the enthusiasm and passion they carry within. These talented brains have been working tirelessly towards their legacy to reach heights in life. Their love and enduring dedication keep them motivated toward achieving their goals. 
The family is involved in several business operations and joint ventures. The company's initiative includes the creation of residential and commercial structures. They are well-known for providing remarkable and one-of-a-kind services. GS Constructions, HO in Siliguri, focuses on small affordable housing projects and complete turn-key projects for customers. In addition, they advertise housing flats and small townships under the banner of Om builders and developers and offer their customers the best services in business, with their construction sites in residential and commercial structures in Uttar Pradesh, West Bengal, and Bihar.
Nutan Engineering, the oldest venture founded in 1962, specializes in ancillaries, tailormade components, and rebuilding jobs at Sugar Industries and Diesel Power Houses in North Bihar. Apart from their corporate emphasis, they also contribute to social development by running numerous educational programs for students' welfare and education. One such effort is their collaboration in Springdale Public School, a joint venture's educational program. Due to the global epidemic, the projects they were working on are now diversifying into hospitality and resorts.